Cupid
Glitter nails inspired by cupid. This product is designed with purple color-based opal glitters that shine from various angles.

REVIEW
Customer Reviews
Write a Review
Ask a Question
09/29/2022
Anonymous

United States
Quick mani for a night out but not for long term
The plus side is that this are very quick and easy to put on - full mani in uder 5 minutes! And they do come off without any damage to my natural nail which was the main selling point. However, I find I do not like to wear these for multiple days. The adhesive doesn't go all the way to cuticle - probably so you can get the remover under the nail when ready - but that means my hair gets caught under it when styling, shampooing etc. Also, i find the nails to be "weak" and bend easily. They do stay on but there is some movement to them which i find odd. In short, good for a quick dress up before a date night but not for multiple days.
03/18/2022
Tara C.

United States
Pretty however
I Haven't used them. they are for my step daughters bday but I did use a different pair that I also ordered. I love the print they are so cute and unique but I unfortunately didn't realized they are the press on kind. I strictly use the glue ons only because the stick on just do not work for me. I am very careful to prep (trim, file, sanitize etc) and even trying them with glue they do not stay on well. The pair I am wearing is also pretty flimsy. That pattern makes up for the lost points, however I wish there were an option for non press on and that they were a little thicker/sturdier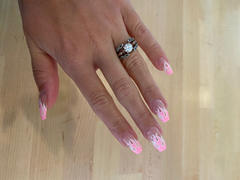 01/09/2022
Anonymous

United States
SHIPPING & RETURNS
*All our products are available to be shipped via FedEx
FREE SHIPPING ON ORDERS US $80+
We offer free shipping for purchases over $80, even with any discount codes applied.
If your order is below $80, you will be charged a fee of $15, despite the country you live in.
Additionally, we are doing our best to bring in more shipping options for our customers.

At this time we ship to the countries with the following: Australia, Canada, Hong Kong, Malaysia, Singapore, and the United States.
For customers living countries where our products are currently not available to be shipped, we are preparing to ship the items to them soon.
So, please wait for a while.
TAXES AND CUSTOMS
** Import duties and fees, taxes and any other charges and fees are the responsibility of the customer.
NOTICE : We, unfortunately, don't ship the items to APO/FPO/DPO (Army Post Office/Fleet Post Office/Diplomatic Post Office) addresses.